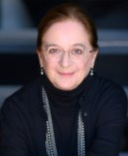 The Honourable Jocelyne Bourgon is the Founding President of Public Governance International (PGI), President Emerita of the Canada School of Public Service and Project Leader of the New Synthesis Initiative (NS).
Madame Bourgon has had a distinguished career in the Canadian Public Service where she led the Public Service of Canada through some of its most important reforms. She served as Clerk of the Privy Council and Secretary to the Cabinet (1994-1999), and Deputy Minister of various departments: Transport, Canadian International Development Agency, Consumer and Corporate Affairs, and the Canada School of Public Service.
Madame Bourgon has a vast international experience. She served as Canadian Ambassador to the Organization of Economic Cooperation and Development (OECD) (2003-2007), President of the UN Committee of Experts in Public Administration and President of the Commonwealth Association for Public Administration & Management (CAPAM).
She is the recipient of six honorary degrees and was summoned to the Queen's Privy Council of Canada (P.C.) in 1998. She is a member of the Order of Canada (O.C.) and Knight of the National Order of Merit of the Republic of France.
Madame Bourgon has published extensively on the subject of public administration. She is the author of A New Synthesis of Public Administration: Serving in the 21st Century (2011) and The New Synthesis of Public Administration Fieldbook (2017).
---
Learn more about Madame Bourgon's Keynote Addresses, Articles and Publications:
Responsive, Responsible and Respected Government: Towards a new public administration theory
J.

Bourgon

, International Review of Administrative Science, 2007
The Future of Public Service: A search for a new balance
J. Bourgon, the Australian Journal of Public Administration, Australia, December 2008
Program Review: The government of Canada's experience eliminating the deficit
J. Bourgon, Institute for Government, UK, 2009
Governing in the 21st Century
J. Bourgon, le Cercle des économistes, Aix-en-Provence, France, 2012
Leadership: An integrated process of change
J. Bourgon, Public Sector Digest, Canada, September 2014
Leading from the Centre of Government
J. Bourgon , The Finland-Estonia-OECD Public Governance Project, Tallinn, Estonia, September 2014
Distinctively Public Sector: The case for a New Synthesis of public administration
Bourgon, Leadership for Change: Innovation for Results, Queensland, Australia, October 2015.
The Federal Idea
J. Bourgon, Parliamentary retreat, Sarawak, Malaysia, December 2015
Rethink, Reframe and Reinvent: Serving in the twenty-first century
J. Bourgon, International Review of Administrative Sciences, 2017
Re-thinking Public Innovation: Beyond innovation in government
J. Bourgon, Dubai Policy Review, UAE, January 2019 (original here)
Thinking and Governing Differently: Old ideas , new discoveries and new ways of thinking for governing
R. Alorse & J. Bourgon, April 2019
Why Is It so Difficult to Make Progress on Climate Change?
J. Bourgon, January 2020
Pandemic and Climate Change: Complexity, resilience and catastrophic events
J. Bourgon, April 2020
COVID-19 and Climate Change: A foretaste of public service in the 21st century
J. Bourgon, Ethos, Singapore, July 2020 (Original here)
Contact us for more information or to reach Madame Bourgon.